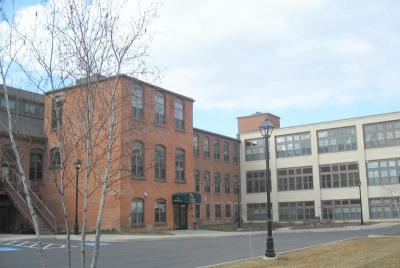 First Town Square, 2007
The Eddy Electric Company was just one of the many businesses that occupied this building which is on the National Historic Register. The original portion on the southern side of the complex was built in 1852 by a group of Windsor businessmen who manufactured stockinet, a finely woven cloth used in undergarments. Just two years later, the Sequassen Woolen Company took over the looms to make fine wool fabric for men's clothing. However, a fire destroyed much of the building in 1872. Once it was rebuilt, the new owners provided it to Christopher Miner Spencer for the manufacture of shotguns and other sporting guns.

In 1885 Eddy Electric Company took over the building to produce motors, generators, speed indictors, and to experiment with electric-powered vehicles. They added the central wing in 1891. General Electric was the last company to use the facility for heavy manufacturing. They added the north wing in 1920, but then moved all their operations to Lynn, MA in 1927. The building did not remain empty for long, however. Cigarette manufacturer P. Lorillard Company took over the building to use for sorting and warehousing tobacco leaves.

In the mid-20th century, Combustion Engineering leased the building for clerical offices, storage, a shipping department, and an in-house print shop. The main CE campus was a research and development complex off Day Hill Road. In December 2001 the building was purchased by the Vintage Radio and Communications Museum of Connecticut. The museum offered displays and a reference library here for about four years before moving to Pierson Lane. In 2005 Windsor's town planning and zoning department gave approval to the Corporation for Independent Living to convert the warehouse to market-rate condominiums. The fifty-five units created in the structure feature two-foot-thick brick walls, high ceilings, and open floor plans. The residents enjoy living close to the town center restaurants, shops, and cultural opportunities. Copyright 2015 Windsor Historical Society.