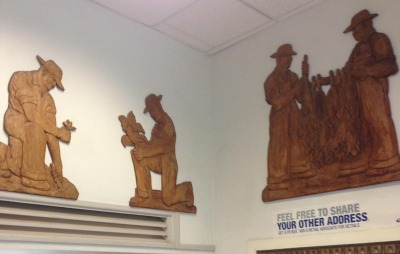 Tobacco Reliefs, 1943
Artist and sculptor Nena Jackson De Brennecke, born in 1888 in Argentina, came to the United States in 1924 and lived in New York City. She designed and carved the wooden bas relief sculptures called "Transplanting," "Harvesting," and "Stringing" tobacco on view in the Windsor Post Office lobby. De Brennecke?s works were created under the auspices of the U.S. Treasury Department?s Section of Fine Arts during Roosevelt?s New Deal era. Between 1939 and 1943 post offices in North Carolina, New Jersey, Pennsylvania, and Connecticut were decorated with her work. She eventually moved to Colorado and founded the Denver Artists Guild with other artists who had participated in the federal government?s art projects.

The Windsor sculptures were originally installed in 1943 over the postal boxes in the town?s new post office at Elm and Broad Streets. When the present post office building was opened in 1963, the artwork was moved and again mounted over the wall of lock boxes. The post office lobby is open to the public 24 hours a day. Copyright 2015 Windsor Historical Society.