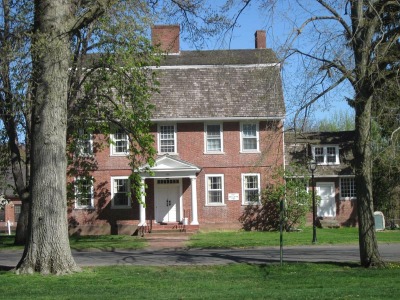 Dr. Hezekiah Chaffee House, ca. 1767
The Dr. Hezekiah Chaffee House has been described as one of the finest Georgian period houses in Windsor. It is situated at the center of the Palisado Avenue Historic District. Currently owned by the Town of Windsor, it is open to the public through the auspices of the Windsor Historical Society.

Dr. Hezekiah Chaffee (1731-1819), druggist and physician, came to Windsor about 1755 and married the widow of a local doctor. He built this spacious house with a massive central chimney, finely paneled walls, and attached medical office and raised a family of five children. After the death of his son John Chaffee in 1844, the house remained in the family for over eighty years, but it was rented for long stretches of time. In 1926 the Loomis Institute purchased the house to use for its Chaffee School. The first class of girls graduated in 1929. After 44 years at the Palisado Green site, Chaffee School merged with Loomis School in 1970 and today the Loomis Chaffee School is located on one campus near the center of town.

The Town of Windsor purchased the Chaffee School campus in its entirety. Currently the buildings are used for various educational and social service purposes. Windsor Historical Society took a lease on the Chaffee House in 1992. They relocated visible pipes and electrical fixtures from the first floor, treated the hardwood flooring, researched period paints and wall coverings, and furnished the rooms with collection pieces in keeping with the Chaffee family estate inventories. The grand reopening of the Dr. Hezekiah Chaffee House took place on June 5, 1993. Copyright 2015 Windsor Historical Society.
Website:
http://www.windsorhistoricalsociety.org/nl_1986-06_pg1.html