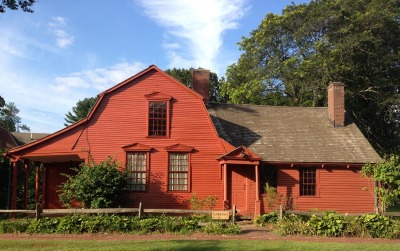 Strong-Howard House, 1757-1830
In 1925 the Windsor Historical Society purchased the 1758 Strong-Howard House, then believed to be the 1640 Lt. Walter Fyler House. The Society maintained the structure over the years and periodically changed the arrangement of antiques that furnished the home. The Society grew to include a separate museum and research library, and began offering tours of the Hezekiah Chaffee House on Palisado Green in the early 1990s. After the Town of Windsor celebrated its 375th birthday in 2008, the Society?s focus shifted back to the Strong-Howard House, named for the Strong family that built the initial gambrel-roofer structure and the Howard family that made major additions from the 1770s to the 1830s. In 2012 the Society launched a capital campaign to fund both the structural restoration of the house and the reinterpretation of the home?s interior using reproduction objects. With major support from the Hartford Foundation for Public Giving, Connecticut Humanities, the Town of Windsor, and an anonymous donor along with contributions from other funders and supporters, the Society has completed Phase 1 and Phase 2 of the three-phase project including the Parlor, Store, Dining Room, and Bedroom.

When you step into the newly reinterpreted rooms of the Strong-Howard House, you feel as if you have gone back in time and walked into the home of Capt. Nathaniel Howard and his family in the year 1810. Not only do you have the opportunity to touch everything, snooping is encouraged. Capt. Howard?s mahogany desk awaits you as does the Howards' high chest filled with clothes and linens. Want to try out the bed? Feel free. Want to look at the dining table under the tablecloth? Go right ahead. But looking does not always answer every question, and you might wonder: how did these items get here? As part of the reinterpretation, the Society carefully researched and reproduced each object you see in the home in an effort to share how the Howard family (Nathaniel, Ann, George, Sarah, Nancy, and Annie) lived in Windsor in 1810. You can visit the Society to learn more about the home and tours are available Wednesday-Saturday at 11am and 1pm. Copyright 2015 Windsor Historical Society.
Website:
http://www.windsorhistoricalsociety.org/