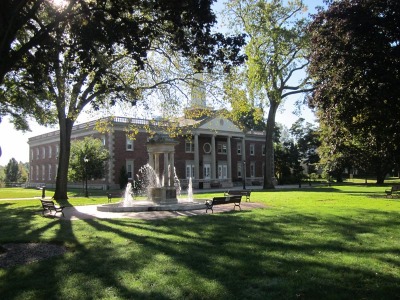 Windsor Town Hall, 1965-1967
On June 11, 1963, the Windsor Chamber of Commerce donated the first brick to symbolically start the campaign for a new Windsor Town Hall. That brick is still visible in the lobby of the completed building, which opened to the public on January 30, 1967. By the 1950s, the old town hall, located on the east side of Broad Street Green and built in 1878 no longer served the needs of Windsor's growing population. The town began acquiring property on the west side of the Green in the late 1950s with the purpose of constructing a new complex of municipal buildings, although only the Town Hall was built on the site. The town approved plans for the new building in 1965 designed by Louis J. Drakos and Associates of Hartford. The steel frame structure, covered with Mack brick and limestone, cost approximately $1.3 million. An eight-week strike by the Local 1, Bricklayers, Plasters, and Masons? Union delayed construction during the summer of 1966, but the building was largely finished by the end of December 1966 when town personnel began moving into their new offices.

The new Town Hall's elevator, fireproofing, and sprinkler system made it a vast improvement over the old structure. It housed municipal departments as well as the Probate Court and the Circuit Court. During the dedication ceremony on April 9, 1967, Mayor Milo W. Peck was given the keys to the building. He then presented them to Town Manager Albert G. Ilg. The Knights of Columbus Council #3181 and the Freemasons of Washington Lodge #70 laid the cornerstone. The cornerstone holds a bronze time capsule containing a microfilm of the 200th anniversary edition of the Hartford Courant and one of the 150th edition of the Hartford Times, a copy of the certificate of occupancy for the new Town Hall, a copy of the 1966 Windsor Town Report, and a copy of "Windsor's Heritage" by Miss Grace H. Loomis. Copyright 2015 Windsor Historical Society.